Professional Associates
Savannah Meyer-Clement
Director of Marketing
As many of you may know, Savannah is my daughter and I am very proud to now have her on board as a full time Wisdom In Golf partner.  She played soccer for the majority of her life and had the amazing opportunity of playing for the Queen's University Women's Varsity Soccer Team during her time at school.  She graduated with a Major in French Studies so she is well versed in both French and English.  Her main passion now is to pursue a career as a professional golfer and make it all the way to the LPGA.  She has always had a love for marketing, graphic design, and photography and with her skills she has helped tremendously in the growth of the family business.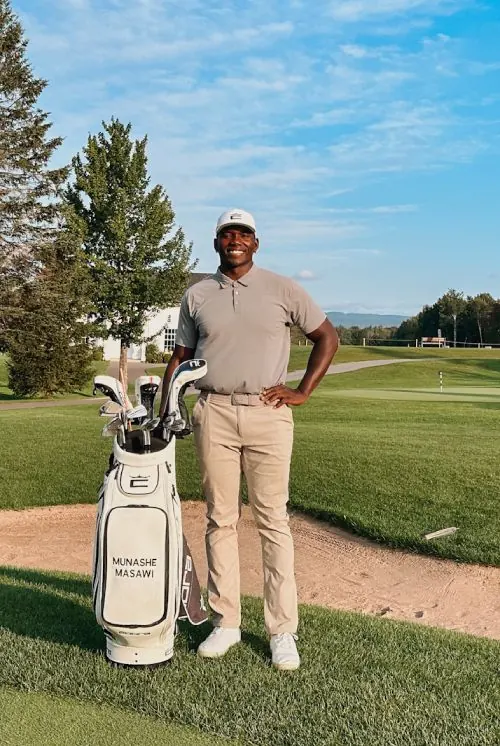 Munashe Masawi
Head Kinesiologist
Munashe has been the Head of Kinesiology for Wisdom in Golf for the past few years and has evolved tremendously in the industry. He has now become one of the top guys in Long Drive and is an expert in acquiring distance with the driver and other clubs in the bag in the most holistic way possible. Munashe can do this because he has a profound passion for fitness and well-being; he has curated multiple golf-specific fitness programs for us and is always working on new and exciting material! He shares the same philosophy regarding how your body is meant to move and function, so you get the best research-based fitness information. Munashe is TPI Certified; the Titleist Performance Institute is the leading organization in golf fitness, the most popular platform used by PGA Tour Professionals.
Donna Norman
Senior Instructor | Wisdom in Golf
Donna Norman has been my right arm in this Academy for the past 7 years and has built an incredible following of new women golfers and is now considered a legend in the area. Fantastic Teacher and an even better person! An angel sent her to us and I am thankful every day that she is on our team.  Donna keeps the centre firing on all cylinders and my students always have something positive to say about her when she covers for me on my travels!    – Sincerely, Shawn Clement
Edouard Montaz
Wisdom In Golf Europe
You have seen him in two of my videos and he is now creating wonderful French versions of my YouTube lessons. He has come so far with my teaching methods and success for him in Paris is gaining momentum by the day with one of his pupils winning the French Amateur Championship. He is very fluent in English, so for those of you in Europe, he is our VP of operations there, centrally located in Paris
John Carroll
John has an impressive career in golf, from being a Head Professional in 1974-1979 to holding a position of Director of Golf Operations at The Club Pelican Bay from 1979 to 2007. John was nominated a Teacher of the Year award in 1989 and twice – Golf Professional of the Year. Just recently he was honored with The Florida State Senior Award. Alico Family Golf Center.
[email protected]
239-860-8470
Richard Rice
Located in Williamsburg, VA, Richard has been a golf professional for over 3 years. He is a firm believer that anyone of any skill level can succeed and improve as long as they work on the right things. His goal is to give his students the WISDOM to succeed, and the motivation to improve.
Ricky Serrano
PGA Director of Instruction
Ricky Serrano has been the Director of Instruction at Cattail Creek since 2006 and has been teaching and promoting the game of golf since 1999. In that time Ricky has given thousands of golf lessons to adults and juniors at all ages and levels of experience. His teaching philosophy is that there are no short cuts: "Without mastering the fundamentals, I believe you will never be able to reach your full potential as a golfer," he says.
He is a Certified FlightScope Instructor, and prides himself in keeping up with the latest developments in the golf industry. Ricky is always looking for better ways to communicate our wisdom and teach his students with the use of digital video and computer technology, especially in the Learning Center at Cattail Creek Country Club.
[email protected]
410-489-5224 ext. 224
Cody Vanderford
I am a high school golf coach and I found Shawn 4 years ago. His teaching methods and style resonated with me from the beginning. I have been studying and applying those methods for the entire time since, and have had the great pleasure of working with Shawn in person while he was here in Dallas. I LOVE teaching and LEARNING! I believe that TARGET FOCUS is the ONLY focus!
Travis Lauterbach
Travis Lauterbach is entering his fifth season as the head coach for the men's and women's golf teams. In that time Lauterbach has led the men's team to a Southern States Athletic Conference title in 2014 and two consecutive NAIA national tournament appearances including a sixth place finish in 2013 event. Lauterbach's golf resume is impressive. He played collegiately at Harding University and has also served the sport as a caddie at some of the country's finest courses, including the Augusta National Golf Club, site of The Masters. The list of golf clients Lauterbach, who is also Faulkner's Sports Facility Coordinator, has caddied for includes Jack Nicklaus and former president Bill Clinton, as well as many professional athletes. He has also worked at other renowned facilities such as Whistling Straits (Wisc.), TPC Sawgrass (Fla.) and TPC Potomac (Md.). Lauterbach earned a degree in Early Childhood Education from Harding in 2006. He added a master's degree in Business Administration in 2007. While in graduate school, he was an assistant coach for Harding's women's golf team.
Chantal Emond
Committed to health and wellness, Chantal is the founder of Fore! Yoga and has been practicing yoga for over 18 years. An avid golfer, she is uniquely qualified to help golfers of all level reach their full potential, on and off the golf course. Offering the program Yoga for Golfers™ (YFG), she is TPI Certified and teaches privately and in corporate settings with one goal in mind: to help golfers feel better so they can play better and longer! A mind-body approach to golf fitness, YFG is for everyone, and no previous yoga experience is needed. A skillful communicator, Chantal offers dynamic golf specific clinics geared towards improving performance on the golf course, by increasing mobility, balance, strength, and focus.
www.foreyoga.ca
[email protected]
416-617-6273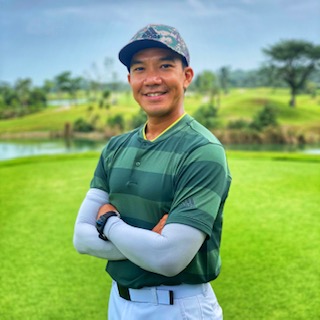 Justin Tang
Approved teacher
Justin Tang has been teaching golf since 2005 and began his career as a golf professional at the Keppel Club – the oldest golf course in Singapore.
With a wealth of experience in teaching, his passion lies in introducing the game to juniors, nurturing their technique and a life-long love for the game with Wisdom.
Over the years, some of his juniors have gone on to compete at the collegiate and national level.
He is currently the club professional at the Tanah Merah Country Club, Singapore's premier golf & country club which boasts of two 18-hole golf courses.
https://www.tmcc.org.sg/golf/overview/
[email protected]
1 Tanah Merah Coast Road
S 498722